Audiology and Speech Language Pathology at Medical College, Pune
National Level Workshop on "METLAB : Theory to Practice"
Collaborative MATLAB Workshop by PICT and BV(DU) SASLP from 8th April to 12th April 2019 at Pune, India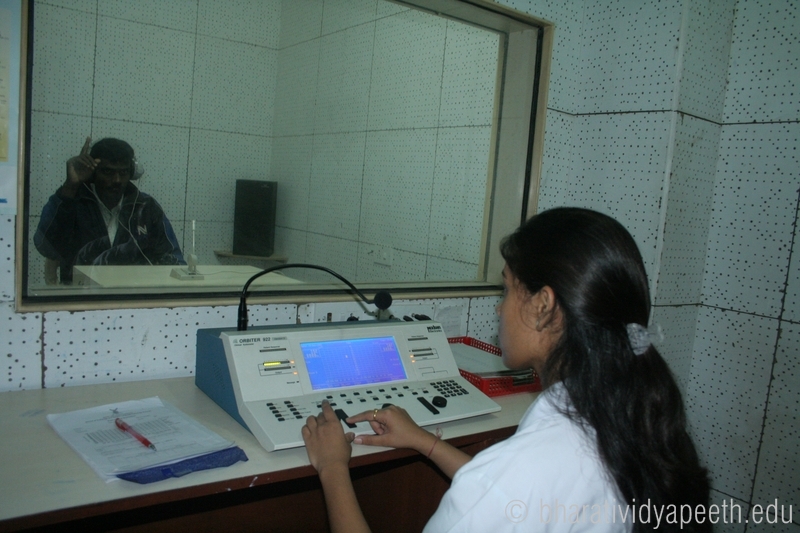 Bharati Vidyapeeth, the parent body of Bharati Vidyapeeth (Deemed to be University) is one of the largest network of educational institutions in India. It was established by Dr. Patangrao Kadam in 1964, in Pune, with a focused objective of bringing about intellectual awakening of people and to develop manpower capable of contributing effectively towards national development, particularly the economic development.

The School of Audiology and Speech Language Pathology was established in 2006 with an aim to develop manpower in the field of Audiology and Speech Language Pathology and to provide services to individuals with speech-language and/or hearing problems.
Audiology is a branch of science that deals with hearing and hearing related disorders. Students of Audiology are educated regarding the anatomy and physiology of the normal and abnormal . auditory system. They are trained in the diagnosis of hearing loss, and differential diagnosis of hearing/auditory disorders, which include disorders of the middle ear, inner ear, auditory nerve and the central auditory nervous system. The students are trained to develop expertise in audiological rehabilitation, which include recommendation of hearing devices such as hearing aids and cochlear implants and also speech language therapy for individuals with hearing impairment. They also learn to cater to the needs of individuals with special needs such as those with tinnitus ( ringing sound in the ear), central auditory processing disorders (difficulty in understanding speech in presence of noise) and hyperacusis (intolerance to loud sounds).



Speech and Language Pathology deals with the normal and abnormal aspects of speech and language. Students of Speech Language Pathology are educated regarding the anatomy and physiology of all the systems involved in speech production. They are trained in diagnosis, differential diagnosis and management of speech and language disorders. These disorders include problems related to voice, mis-articulations, stuttering, speech and language problems associated with hearing impairment, mental retardation, cerebral palsy, cleft lip & palate, autism, laryngectomy, stroke/paralysis, and learning disorders. Many a times the problems of individuals with communication disorders are multifold and require special talent and expertise to cater to their needs. Students of Speech Language Pathology are trained in these skills.